Back
Who's in the barn?  Come and see!
Here at Barleylands we have a range of animals for our visitors to meet. From our farmyard friends to birds of prey and even reptiles and mini beasts!
Our farm animals, depending on the time of year, can be found within our outside paddocks or within the Animal Barn. The Animal Barn allows our visitors to get even closer to our animals. Within our Animal Barn you will be able to meet Bobby the Donkey, Freddie the Welsh Mountain Pony and Gertie the Gloucestershire Old Spot Pig. Plus of course all our cheeky sheep and goats!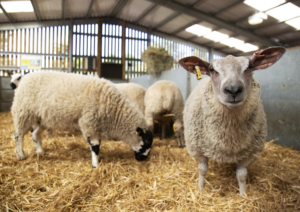 Safe inside the barn is our bunny village and our friendly rabbits love nothing more than a gentle pat or even a cuddle. In the summer they were joined in the barn by six friendly Guinea Pigs who can be found housed next to the rabbits. Make sure you pop by to say hello.
Within the outside paddocks you will find our beloved miniature donkeys, as well as Annie and Flora our beautiful Highland cows and even an alpaca or two, depending on the time of year. Dotted around the farm you will also find ducks as well as a variety of chickens and pheasants.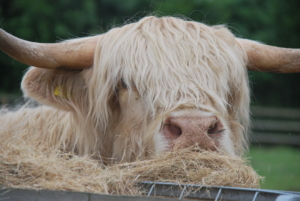 Our, friendly, helpful team is always on hand to share their knowledge. With timetabled activities running throughout the day there is plenty of opportunity to learn about our animals.
One of the most popular activities on the farm is our lamb bottle feeding. We have daily lamb bottle feeding sessions so the whole family can come along to experience this wonderful activity for yourself.  When mother sheep (ewes) have – triplets, they often struggle to feed both babies and so for centuries, farmers have helped out by feeding their babies too.  For young children – and those young at heart, bottle-feeding a lamb is a simple pleasure that has real meaning too
Animal feed is available at the entrance to the farm and with plenty of hand washing sites around, you can feed our animals in the paddocks as well as in the Animal Encounter barn.