Thursday August 4th 2022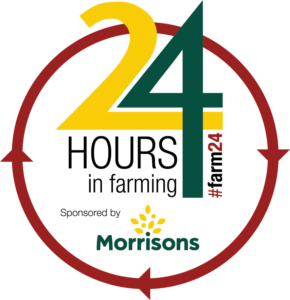 It's that time of year again folks and here at Barleylands we are going to be fully involved in the biggest agricultural event of the year. So what's it all about?
#Farm24 began in 2015 with the aim of showing consumers the vast extent of the effort and care which goes in to producing the food we eat. Sponsored by Morrisons (who are passionate about supporting local farming), #Farm24 is the day when British farmers take social media by storm, posting pictures, videos and text to explain the work that they are doing.
Throughout the day, contributions pour in to Twitter, Facebook, Instagram and Snapchat and each year #Farm24 goes from strength to strength. Last year's posts, from more than 4500 farmers across Britain, reached an audience of more than 112 million people and this year it is set to reach even more. It will be a 24 hour showcasing of the very best of our diverse British Farming industry.
This is a one day snapshot of everything that happens in farming 365 days a year. Come rain, snow or heatwaves, farming never stops. #Farm24 aims to emphasise the passion and commitment it takes to produce the food we all enjoy eating and to raise public awareness of, and respect for, the sheer hard work and dedication which farming demands.
#Farm24 is an annual opportunity for the public to see an impressive range of farming practice across the country and it is a key platform for educating and inspiring consumers to share in the exciting work which goes in to stocking our supermarket shelves and putting tasty dinners on British tables.
Education has always been at the forefront of what we do at Barleylands. In fact, it was the primary aim in Peter Philpot's mind when he developed the farm park. Over the years, thousands of school children have benefitted from our award winning 'Field to Fork' education programme, while visiting families have learned about animal farming, husbandry and our growing family of rare breeds. Barleylands was recently recognised as a Rare Breeds Farm Park by the Rare Breeds Survival Trust. You can read more about this wonderful achievement on our website and, needless to say, our lovely rare breed animals will all be playing their part for #Farm24; there's nothing they like more than looking their best for public appearances!
So how can you get involved in this year's #Farm24?
The most important thing is to share the posts far and wide (and naturally, we would like you to prioritise our Barleylands posts!). Last year, #Farm24 was trending No 1 on Twitter.
Post your own farming news! It doesn't matter if your little farm consists of no more than a couple of chickens- you are part of the industry so post with pride!
Why not come to Barleylands on the day itself and be part of the excitement? You will see videos being made and all sorts of things going on and you might even be involved in one of our posts! We will be posting on the hour, every hour, all day long. All entry requirements are shown on our website but, with so much going on throughout the year, our annual passes are becoming more and more popular and really are excellent value for money.
So please mark the date and join us on the day, in any way you can, to help us showcase British farming at its very best.